UTAH BEACH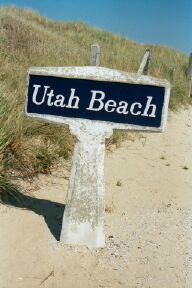 6th June 1944
BACKGROUND
Utah Beach was the extreme right flank of the Allied landings on 6th June 1944, and was part of a joint operation with American airborne troops to gain a foothold on the Carentan penninsula, which lead to the vital port of Cherbourg. The American 7th Corps landed here, and comprised:
4th Division
9th Division
79th Division
90th Division
The tide and navigation landed them in the wrong place on D Day, which proved fortuitous. Despite some German resistance, the landing went well and troops were ashore with minimal casualties. By the close of the day, infantry and armoured units were already meeting up with Airborne troops, and the key village of St Marie du Mont was in American hands.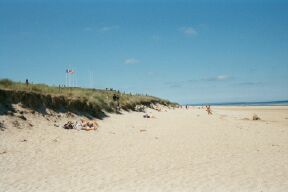 Utah Beach 2001.
Utah then became one of the main disembarkation beaches for American troops, and from D Day until 1st November 1944, 836,000 GIs, 220,000 vehicles and some 725,000 tons of stores came in here.
LIBERTY WAY
The Liberty Way marks the route of the American liberation of France and Belgium, and one part of it starts here at Utah Beach. To mark this, a Liberty Way stone with the legend "OO KM" is sited here. The end of the Liberty Way is at Bastogne, where the Battle of the Bulge was fought.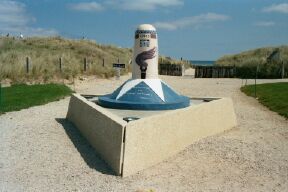 Liberty Way "KMOO marker, Utah Beach.
UTAH BEACH MUSEUM
This excellent museum tells the story of the landings here on 6th June 1944, and is situated close to the site of the W5 defences. The galleries are full of photos and memorabilia, and there is a scale model of the landings at Utah Beach. In addition there are several vehicles, and a complete German concrete Tobruk pit you can go into.
The museum is open at the following times:
High Season: June to September 09.30 - 19.00 every day, without interrruption.
Mid-Season: April, May & October 10.00-12.00 & 14.00-18.00.
Low-Season: November - March, weekends only plus school holidays and national holidays, 10.00-12.00 & 14.00-17.30.
Tel: 03 33 71 53 35.
LE ROOSEVELT CAFE, UTAH BEACH
Located close to the museum, this excellent little cafe has its own fine collection of D Day relics, as well as being a good place to get drinks, snacks and lunches. There is a well stocked shop, and also Internet facilities where you can pick up your email and surf the net.
Le Roosevelt Cafe, Utah Beach, 50480 Sainte Marie du Mont, France.
Tel: 03 33 71 53 47.
Web: http://www.le-roosevelt.com/
Email: restaurant.le.roosevelt@wanadoo.fr

ŠPAUL REED 2002-2006