TILLY SUR SEULLES WAR CEMETERY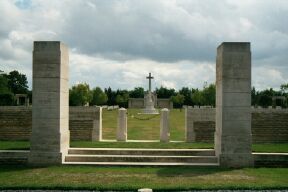 British - 986
New Zealand - 2
Canadian - 1
Australian - 1
German - 232

HISTORICAL INFORMATION: There was heavy and fluctuating fighting in the vicinity of Tilly-sur-Seulles immediately after the Allied landings in Normandy; the 7th Armoured Division and the 49th and 50th Divisions were involved. Tilly itself was not captured until 19th June 1944 after having changed hands on several occasions. The first burial made directly into the cemetery was on 8th July 1944; subsequently burials were brought in from the battlefields in the vicinity. There are 990 Commonwealth burials of the 1939-45 war commemorated in this site. Of these, 45 are unidentified. Also commemorated here are 232 Foreign National casualties.
LOCATION: From Bayeux, take the D6 traveling south-east for about 12 kilometers to Tilly-sur-Seulles. In the center of the town turn right (westwards) onto the D13 following signs for Lingevres. The cemetery will be found after about 1 kilometre on the left hand side. There is parking in a lay-by on the opposite side of the road.
PERSONALITIES: Although located in part of the battlefield where the fighting raged in June and July 1944, the majority of burials here are from the August breakout battles. Among these are a large number from the Norfolk Regiment who fell on 6th August. The Irish Guards are also well represented, especially among the officers. Among these is:
Lieutenant Lord Edward Fitzmaurice
Irish Guards
Killed in Action 11th August 1944, aged 22.
(Plot IX, Row E, Grave 9)
A battalion commander is also found in the cemetery:
Lieutenant Colonel John Harold Child Pearson DSO
South Lancashire Regiment, commanding 5th Wiltshire Regiment
Killed in Action 7th August 1944
(Plot VI, Row C, Grave 1)
War Poet Keith Douglas is buried in Tilly War Cemetery:
Captain Keith C. Douglas
2nd Derbyshire Yeomanry attached Notts Yeomany (Sherwood Rangers) RAC
Killed in Action 9th June 1944, aged 24.

Keith Douglas in North Africa
The inscription on his grave reads:
" Poet. Artist.
Phil. IV.8.
'These things' he loved
He died in their defence."
ŠPaul Reed 2002-2006