SWORD BEACH
6th JUNE 1944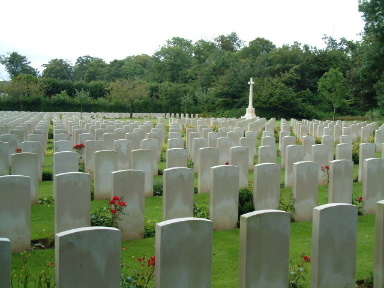 'Sword Beach Cemetery', Hermanville, 2004
HISTORY
In many ways Sword Beach was the key to success in the Normandy landings. It was the nearest beach to Caen , the capital of the area and the prize that would need to be taken to allow a breakout. The plan was to land the 3rd Infantry Division ('Monty's Ironsides'), who would then link up with 6th Airborne Division on the Eastern Flank. The 3rd Division would be assisted in the landings by Lord Lovat's 1st Special Service Brigade, which also included French commandos. Their opposition would be units from the German 716th Division, with 21st Panzer Division located in the Caen area – a possible major threat if tanks arrived to block the invasion.
The landings on Sword began at 7.25am, with the infantry of 3rd Division coming under heavy fire as they hit the beach. However, many Sherman DD tanks had landed successfully and were able to lay down fire support. The commandos were doing well, but encountering stiff resistance as they battled through the streets and bunkers at Ouistrehem. Units pushed gradually inland and neutralised the defences beyond the beach at Morris and Hillman bunker complexes. Meanwhile 1st Special Service Brigade linked up with 6th Airborne at Pegasus Bridge , and by late afternoon infantry and tanks from 3rd Division had also moved to Caen canal.
A counter-attack from 21st Division comes in the late afternoon, when a Kampfgruppe (Battlegroup) advances on the Perriers Ridge. Although some units gain sight of the sea, the attack is driven back with heavy losses in tanks, equipment and men. The Germans withdraw to the high ground north of Caen , and the landings at Sword Beach are now secure. But Caen had not been taken – and wouldn't be for some time to come.
THE BATTLEFIELD TODAY
There has been much development along Sword Beach, but it is still possible to find traces of the D Day landings and German defences. The Hermanville War Cemetery, once called 'Sword Beach Cemetery' contains the graves of many 3rd Division men who fell here. Good museums also abound, such as the Museum of the Atlantic Wall at Ousitrehem. There are also many memorials to the units that landed, and inland is the impressive Hillman Bunker complex.

©PAUL REED 2002-2006