RYES WAR CEMETERY, BAZENVILLE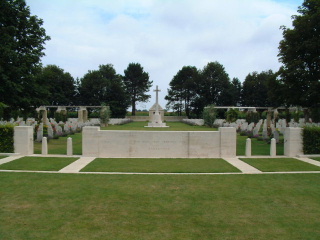 British - 630
Canadian - 21
Australian - 1
Polish - 1
German - 326
HISTORICAL INFORMATION:
The cemetery was started on 8th June 1944, following the 50th (Northumbrian) Division landing on nearby Gold Beach on D Day, and reflects the fighting that took place in this area on 6th June 1944, and the subsequent advance beyond Bayeux. Rear echelon troops who died on or near the beach-head following D Day are also buried here, along with a large number of Naval and Merchant Navy personnel. Some soldiers buried here are recorded as having died of wounds, so it is likely there was an Advanced Dressing Station in Bazenville at some point.
LOCATION:
Leave Bayeux on the D12 to the east, following signs for Ouistreham; at the village of Sommervieu go straight on along the D112, and after 3 km turn right on to the D87. After climbing high ground and following the road to the left, the cemetery will be found on the left hand side. There is a parking bay in front.

PERSONALITIES:
| | |
| --- | --- |
| | Chaplain Rev. C.Minton-Senhouse att. 151st (Ayrshire Yeomanry) Field Regiment Royal Artillery |
- Royal Army Chaplains Department
- Killed 30th June 1944, age 35.
| | |
| --- | --- |
| | Brothers buried side by side: |
Pte J.Casson
9th DLI
Killed 27th July 1944, age 18

Marine R.Casson
No 45 Royal Marine Commando
Killed 6th June 1944, age 25
| | |
| --- | --- |
| | Soldiers with Decorations buried here: |
Pte J.Armstrong DCM
6th Green Howards
Killed 28th June 1944, age 24

Lieutenant E.A.Barson MM
13th Regt RHA (Honourable Artillery Company)
Killed 26th June 1944, age 29

Sgt L.T.Brown MM
3rd County of London Yeomanry (Sharpshooters)
Killed 11th July 1944, age 31

Pte A.E.V.Clarke MM
6th Green Howards
Killed 12th June 1944, age 26

Ch Eng Off D.D.A.Erskine DCM
SS 'Empire Roseberry' - Merchant Navy
Died 25th August 1944, age 49

Sgt R.R.G.Greer MM
Argyll & Sutherland Highlanders
Killed 30th June 1944, age 29

L/Cpl P.J.Horton MM
Royal Signals
Killed 6th June 1944, age 25

L/Sgt A.R.G.Howard BEM
102nd (Northumberland Hussars) AT Regt RA
Killed 11th June 1944, age 25

Lieutenant H.M.Jones MBE
RCIC att 7th Somerset Light Infantry
Killed 8th July 1944, age 22

Major A.C.W. Martin DSO
Dorsetshire Regiment
Killed 6th June 1944, age 27
ŠPaul Reed 2002-2006