LONGUES BATTERY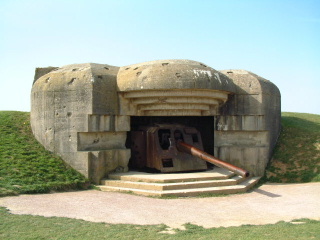 The Longues Battery, built on the cliff top beyond the village of Longues sur Mer, was part of the Atlantic Wall defences in Normandy. Housed in strong concrete casemates were 152mm cannons, capable of firing more than twenty kilometres out to sea. They were guided by a Control/Command bunker on the very edge of the cliff. Despite bombardment, they were able to fire at Allied shipping on D Day, until the position was captured by 2nd Battalion Devonshire Regiment who had come inland from Gold Beach.
After the Second World War, most Atlantic Wall defences were dismantled, but the guns at Longues were not removed - today making it one of the few battery sites to remain pretty much intact. The site was used in the 1960s for the filming of the Longest Day, and is now owned by the Memorial Museum in Caen.
It is open every day, and there are on site guided tours (in English) in a small 'golf buggy' from 10.00am-6.00pm. There is a shop on site, plus toilets and parking.
For further details contact: 0033 231 21 46 87.
ŠPAUL REED 2002-2006