LIVRY (LE REPAS) ISOLATED GRAVE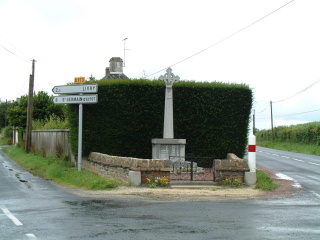 HISTORY
Captain George Charles Grey of the 4th Bn Grenadier Guards, 6th Guards Tank Brigade, was killed in the opening stages of Operation Bluecoat on 30th July 1944, age 25. He was buried on the battlefield by his men, and the family made the grave permanent after the war. While this site gives the appearance of just being a memorial, it is in fact a registered war grave. George Grey was the Member of Parliament for Berwick-on-Tweed from 1941-44. He was the son of Major-General Wulff Henry Grey, CB CMG, and Alix Grey, of South Kensington, London.
LOCATION
Le Repas is a hamlet on the road between Caumont l'Evente and Livry, 2km east of Livry. There is one Commonwealth burial of the Second World War here, in the middle of the hamlet, marked by a granite cross.

For further details of this site see the Memorial to Captain Grey page in the main Normandy section of Battlefields of WW2.
ŠPaul Reed 2002-2006