La Delivrande War Cemetery, Douvres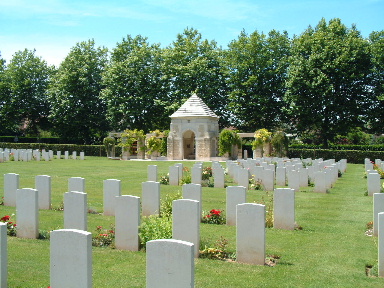 British - 927
Canadian -11
Australian - 3
Polish - 1
German - 180
Unidentified - 1
HISTORICAL INFORMATION:

The Allied offensive in north-western Europe began with the Normandy landings of 6 June 1944. The burials in La Delivrande War Cemetery mainly date from 6 June and the landings on Sword beach, particularly Oboe and Peter sectors. Others were brought in later from the battlefields between the coast and Caen. There are now 942 Commonwealth servicemen of the Second World War buried or commemorated in this cemetery. 63 of the burials are unidentified but there are special memorials to a number of casualties known to be buried among them.
LOCATION:
Take the main road northwards from Caen, the D7 to Langrune-sur-Mer. After about 12 kilometres, the War Cemetery will be found on the right of the road, a few hundred metres before reaching La Delivrande crossroads and its twin-spired church. There is also parking to the rear of the cemetery, down a side road which leads to the town civil cemetery. It is recommended you park here, as the main road is very busy.
PERSONALITIES:
| | |
| --- | --- |
| | There are several senior officers buried here, reflecting the heavy losses among unit leaders in Normandy: |
Lieutenant Colonel G.H.Bolster OBE
Northumberland Fusiliers, commanding 1st South Lancashires
Killed 24th July 1944, age 42.

Lieutenant Colonel R.T.G.Harrap
13/18 Royal Hussars, RAC
Killed 15th June 1944, age 37.

Lieutenant Colonel H.O.S.Herdon
2nd Bn Royal Warwickshire Regiment
Killed 7th June 1944, age 38.

Lieutenant Colonel T.E.Hussey
33rd Field Regiment Royal Artillery
Killed 9th June 1944, age 37.

Lieutenant Colonel F.J.Maurice DSO
2nd Bn King's Shropshire Light Infantry
Killed 21st June 1944, age 39.
| | |
| --- | --- |
| | Rev. C.D.Carnegie Royal Army Chaplains Department |
- Killed 16th July 1944, age 27.
ŠPaul Reed 2002-2006