HILLMAN STRONGPOINT
6th JUNE 1944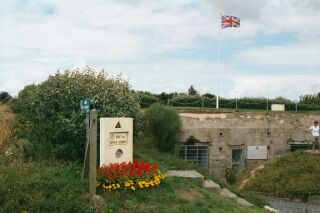 HISTORY
The Hillman Strongpoint was part of the inland defences on Sword Beach sector, where 3rd Division landed on D Day. Staffed by 150 men of the 736th Regiment, the site was also their headquarters. It covered an area 600 x 400 meters, had 12 emplacements, with anti-tank guns and machine-guns (largely in Tobruk Pits).
Hillman was attacked on 6th June 1944 by the 1st Suffolk Regiment, supported by C Squadron 13/18 Hussars, A Squadron Staffs Yeomanry, two batteries from 33rd and 76th Field Regiments Royal Artillery, 246th Field Company RE and a machine-gun platoon from 2nd Middlesex Regiment. Hillman was outflanked to the north, where high grass allowed an approach to the minefield area surrounding the bunkers and barbed wire. This was cleared by the RE, and a path made through the wire by Bangalore Torpedoes. A Company of 1st Suffolks then charged through the gap, and entered the bunker area, but came under such heavy fire that they lost the company commander (Captain R.G.Ryley) and had to pull out. Shermans from 13/18 Hussars then came up, and a second assault carried the position. However, in the process two tanks from 13/18 Hussars were knocked out and the Suffolks lost two officers killed, along with five men and 24 men wounded.
Pte J.R.Hunter of the 1st Suffolks was awarded a Distinguished Conduct Medal (DCM) for bravery in this action. He became known in the unit as 'Bunker Hunter DCM' for his exploits in the capture of Hillman.
THE SITE TODAY
While access to the site and most of the bunkers is possible all year round (it is, in effect, an 'open air museum'), every Tuesday in July and August from 15.00 the friends of the site open up the main bunker with displays of artifacts and photographs. Normally around 6th June every year there is a 'living history' event at the site. In 2002 the site is also open the weekend 21-22 September.
There is also a good website by the 'Friends of the Suffolk Regiment', a reenactment group that does these events at Hillman. Check out their web site at:
http://www.amis-du-suffolk-rgt.com/
PHOTO ALBUM

ŠPAUL REED 2002-2006