HARTENSTEIN HOTEL AIRBORNE MUSEUM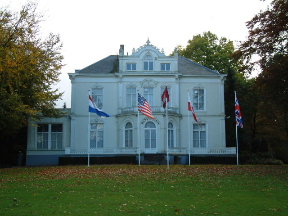 The Hartenstein Hotel Museum, October 2002
The Hartenstein Hotel dates from the mid-eighteenth, when it was a house in the middle of a country park. After the death of the original owner it was first used as a nursing home, and then became a hotel when the site was bought by the Renkum/Oosterbeek council as late as 1942. Following the landing of 1st Airborne Division on 17th September 1944, Major General R.E.Urquhart established his divisional headquarters here, and as the battle developed it was also used as a defensive position, aid post and signals HQ. A the heart of the Oosterbeek perimeter, the battered and wounded survivors of 1st Airborne surrendered to the Germans on 25th September.
Although badly damaged in the battle, the building survived and was repaired after WW2. It returned to being a hotel, and many Arnhem veterans used it. Meanwhile an Airborne Museum had opened, as early as 1949, in Doorweth Castle. When the Hartenstein Hotel came up for sale in 1978, the museum moved here and was re-opened by Major General Urquhart in May 1978. Today it receives nearly 100,000 visitors a year, and is still a place of pilgrimage for returning veterans.
Using a vast array of artifacts, many of them unique, the museum tells the story of Operation Market Garden. The visit begins with a film about the battle, and moves on through a number of rooms on both floors where the exhibits are displayed. In the cellar are several life size dioramas, and for many these are the highlight of the visit. All in all a unique museum - where the museum itself is the ultimate exhibit, it being so obviously a symbol of the battle.
There is a snack room on-site, together with modern toilets and an excellent bookshop (which is now also on-line: click on this link).
Opening hours are:
1 November - 1 April - Monday to Saturday: 11.00-17.00
1 November - 1 April - Sundays & Public Holidays: 12.00-17.00

1 April - 1 November - Monday to Saturday: 10.00-17.00
1 April - 1 November - Sundays & Public Holidays: 12.00-17.00
Closed Christmas Day & New Years Day.
Admission (2005): 4.80 € adults (3.80 € group rate). 3.80 € children (3.30 € group rate). Arnhem veterans 3.80 €.
Airborne Museum 'Hartenstein'
Utrechtseweg 232
6862 AZ Oosterbeek
Holland
Tel: 0031 26 333 77 10. Fax: 0031 26 339 17 85.
Email: info@airbornemuseum.com
Web: http://www.airbornemuseum.com/
©Paul Reed 2002-5