CAHAGNES ISOLATED GRAVE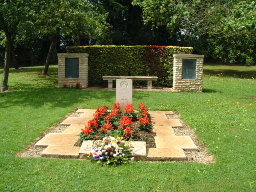 HISTORY
Lieutenant James Gerald Marshall-Cornwall was commanding a tank when he was shot by a German sniper and buried on the spot. After the war the landowner gave the ground to the young officer's father, who requested that the grave site should not be disturbed. The CWGC erected a headstone on the soldier's grave, and the family added a memorial behind. This is the smallest military cemetery in Normandy, and probably of the Second World War.
The plaque on the memorial reads:
ON 30th JULY 1944 AFTER A HOLD UP OF MANY WEEKS, THE BRITISH VIII CORPS ATTACKED THE STRONG GERMAN POSITION SOUTH AND EAST OF CAUMONT. THE KEY POINT OF THE DEFENCE WAS THE BOIS DE MONDANT (OR LUTAIN) HELD BY THE 752nd GRENDIER REGIMENT OF THE 526th GERMAN INFANTRY DIVISION. THE ATTACK WAS LAUNCHED BY THE 15th (SCOTTISH) DIVISION PRECEDED BY THE 4th (TANK) BATTALION GRENADIER GUARDS EQUIPPED WITH CHURCHILL TANKS. LIEUTENANT JAMES MARSHALL-CORNWALL WITH THE LEADING TANK OF HIS TROOP PENETRATED AND CAPTURED THE BOIS DE MONDANT THUS EFFECTING THE FIRST BREAK-THROUGH ON THIS FRONT. WHILE HANDING OVER HIS PRISONERS TO THE SUPPORTING INFANTRY, 2nd BATTALION GORDON HIGHLANDERS, CLOSE TO THIS SPOT HE WAS STRUCK DEAD BY AN ENEMY BULLET.
HE GAVE HIS LIFE FOR HIS COUNTRY AND FOR THE LIBERATION OF FRANCE.
LOCATION
While this grave is in the commune of Cahagnes, it is in fact located on the D54 which runs roughly south-east from Caumont l'Evente. Leaving Caumont, the grave is found west of the road about 1 mile further on. There is parking by the steps.


The headstone.
ŠPaul Reed 2002-2006