BROUAY WAR CEMETERY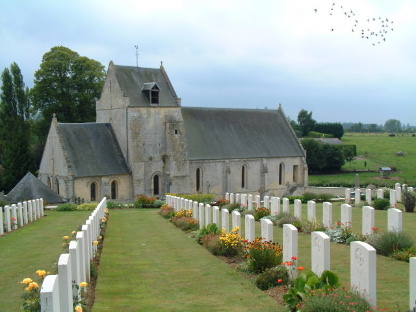 British - 375
Canadian - 2
HISTORICAL INFORMATION:

The cemetery was started in June 1944, and reflects the fighting that took place in the advance on Caen. Brouay itself was on the front line between 10th - 18th June 1944, and was at one time the junction between the British and Canadian forces around Caen. The cemetery remained in use until August 1944, and burials from men in the 53rd (Welch) Division are particularly numerous, with the Oxs & Bucks Light Infantry, Royal Welch Fusiliers and East Lancs Regiment dominating the graves here.
Set in a picturesque location overlooking Brouay Church, this is one of the smaller Normandy cemeteries, and one that still retains much of its original 1944 feel. Very much a 'comrades' cemetery with burials from the same unit and division.
LOCATION:
Brouay village is just over a mile south of the main Bayeux-Caen road (N13), and roughly half way between the two cities. From the N13 take the D217 and cross over the railway line by the bridge. Then take the next right (D94) into Brouay, and at the next road junction turn right (following the green CWGC sign) under a railway bridge. Follow this road to the church. Park here, and walk through the churchyard to the military cemetery at the back.

PERSONALITIES:
| | |
| --- | --- |
| | Major C.V. Broke 147th (Essex Yeomanry) Field Regiment Royal Artillery |
- Killed 6th August 1944, age 32.
- The inscription on his headstone reads:
"Killed in Action rescuing his men from a burning truck - Greater Love Hath No Man"
- Mentioned in Despatches.

Major C.V.Broke
| | |
| --- | --- |
| | Captain P.I.D.Heard RA att. 659th A.O.P. Squadron RAF |
- Killed 27th June 1944, age 25.
- Air Observation Pilot.
| | |
| --- | --- |
| | Lieutenant Colonel E.R.G.Ripley KSLI commanding 1/5th Welch Regiment |
- Killed 30th June 1944, age 32.
- From Kington, Herefordshire.
| | |
| --- | --- |
| | Rev. H.Smith Royal Army Chaplains Department |
- Killed 8th June 1944, age 37.
ŠPaul Reed 2002-2006