BAYEUX EASTERN CEMETERY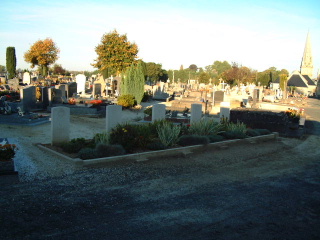 HISTORICAL INFORMATION:

The civilian cemetery was used in June 1944 to bury five men from 7th (Armoured) Division who were killed nearby. While it only contains five war graves, two of them are notable characters.
LOCATION:
The cemetery is reached from Bayeux War Cemetery by taking the ring-road in the direction of Caen. At the Eisnehower roundabout go straight across and at the next set of traffic lights turn right, and right again onto a parking area in front of the church on your right. You will see a green CWGC plaque at the entrance; go through the gates and go to the far corner of the cemetery where the five wargraves are.

PERSONALITIES:
| | |
| --- | --- |
| | Lieutenant Gilbert Talbot 1st Bn Rifle Brigade |
- Killed 20th June 1944, age 23.
- His father was Rev. Neville Talbot, Bishop of Pretoria. During the First World War Neville Talbot and his friend Rev. P.S.B. 'Tubby' Clayton started the Toc H organisation at Poperinghe in 1915. They named a house there 'Talbot House' after Lieutenant Gilbert Talbot of the Rifle Brigade, killed at Hooge in July 1915. Neville married in 1918; his second child was a boy, whose mother died in childbirth. He named the boy Gilbert after his own brother - only to lose his son in Normandy, with the same regiment, in 1944. One family's tragic loss in two world wars.
| | |
| --- | --- |
| | Major Francis Arthur Dorrien Smith 1st Bn Rifle Brigade |
- Killed 20th June 1944, age 22.
- Son of Major Arthur Algernon Dorrien Smith and Eleanor Salvin Dorrien Smith of Tresco, Isles of Scilly.
- His brother, Captain Algernon Robert Augustus Dorrien Smith was killed with 15/19 Hussars RAC on 20th May 1940 and is buried in Lapugnoy Military Cemetery, Pas de Calais, France.
ŠPaul Reed 2002-2006