Banneville-la-Campagne War Cemetery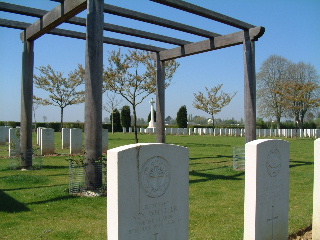 British - 2,150
Canadian - 11
Australian - 5
New Zealand - 2
Polish - 5
Unidentified - 2
HISTORICAL INFORMATION: The cemetery contains burials from soldiers killed in the Normandy fighting, largely during the second week of July to mid August 1944. At this time Caen was finally captured, there was heavy fighting in the Bocage, and the Falaise Gap was closed as the Germans withdrew from Normandy. Casualties from Operation Goodwood particularly dominate this cemetery.
LOCATION: The cemetery lies 100 metres south of the main road (the N175) between Caen and Pont l'Eveque, about 8 kilometres east of Caen and 3˝ kilometres west of the village of Troan. There is parking by the main entrance, and to enter the cemetery follow a long grass path from the road.
PERSONALITIES:
| | |
| --- | --- |
| | Lieutenant Rex John Whistler 1st Welsh Guards (III-F-2) |
- Killed 18th July 1944, age 39.
- Son of Henry and Helen Frances Mary Whistler, of Lyme Regis, Dorsetshire.
- Artist.

ŠPaul Reed 2002-2006