1st (Airlanding) Battalion Border Regiment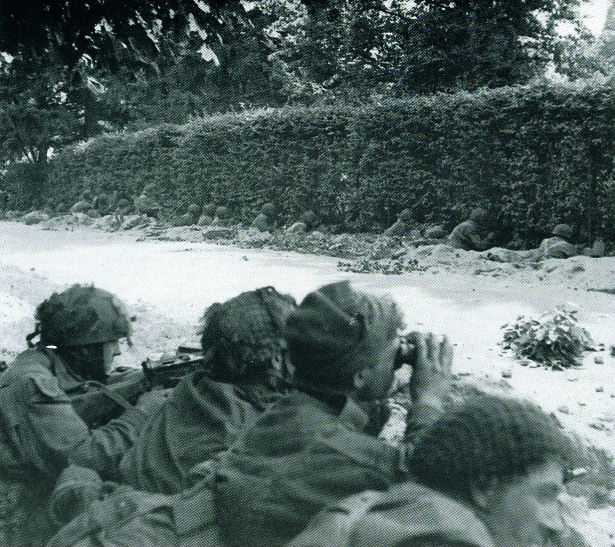 1st Borders in Van Lennepweg 1944
Arnhem September 1944
The 1st (Airlanding) Bn Border Regiment was part of the 1st Airlanding Brigade, and commanded by Lieutenant Colonel Tommy Haddon. It landed by glider on LZ S on 17th September 1944, and secured DZ X and LZ Z. It later moved into the Oosterbeek Perimeter, defending the left flank. Several army photographers were attached to the battalion, and there are many photographs of it. The battalion went into Arnhem with 788 officers and men. Some 121 died, 235 were evacuated across the Rhine and 432 were missing.
A good walk can be had from the Hartenstein Hotel along Utrechtesweg going west, and turning down Hoofdlaan. Take the first turning on your right - Van Lennepweg - right and you will then see in the trees the marker post below:

Site of the mortar pit
This is the site of a foxhole which in 1944 contained what became the most famous 3-inch mortar crew of WW2: Cpl Jim McDowell, Pte Norman 'Jock' Knight and Pte Ron 'Ginger' Tierney. Tierney faces the camera, and the in the film shots can be seen shouting 'fire'. All three made it back across the Rhine, although Knight was wounded in the crossing.
Foxhole Marker post Van Lennepweg 2005
Continue down Van Lennepweg to the next bend; on the left is another marker post describing the forward positions of the battalion in this part of the Oosterbeek Perimeter:

Marker Post in Van Lennepweg
The next stretch of Van Lennepweg was the front line positions held by 1st Borders. Men from C Company were photographed here on 20th September 1944. They were dug in both sides of the road, facing west. Many were dug in tight up against a tall hedge - which in September 2005 was still there and shown on the photograph below.

The hedge where 1st Borders were dug in
From here continue up Van Lennepweg into Utrechtseweg and back to the Hartenstein Hotel area.
ŠPaul Reed 2005